Feb. 14, 2020
I-PEX Connectors has developed the world's first fully-shielded auto-lock FFC connector for high-speed transmission.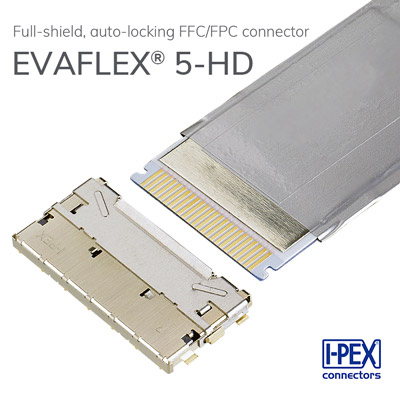 The new EVAFLEX® 5-HD Auto-Lock FFC Connector has 360-degree shielding, which prevents EMI leakage from the contact tails as well as the mated side. Being fully-shielded gives designers more freedom for placement on the PCB, without worrying about noise or signal interference. It also has a multi-point ground design which provides better signal-integrity than other typical non-ZIF connectors. The one-touch auto-lock design makes it operator friendly, enabling high productivity and high reliability. The auto-lock feature prevents the connector from being half-locked and will help avoid operation errors. The connector has a max mated height of 2.20 mm, a contact pitch of 0.50 mm, and is available in 24 pin count.
Designed for high-speed transmission at 10+ Gbps, this connector conforms to USB® 3.1 Gen 2 industry standards, making it suitable for gaming devices, PCs, drones, AR/VR devices and any other application that requires using this USB standard.
For more detailed information about this connector, visit the product page on the I-PEX Connectors website.
About I-PEX Connectors
I-PEX Connectors uses innovative, "Perfection in Precision" manufacturing to produce very small, high-performance connectors that provide the foundation for high-data-rate and high-frequency solutions in the electronics industry. I-PEX Connectors is a connector brand of DAI-ICHI SEIKO, located in Tokyo Japan.
I-PEX and EVAFLEX are registered trademarks of DAI-ICHI SEIKO Co., Ltd.